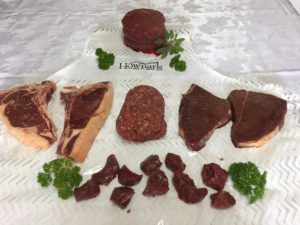 The summer is on the down swing so now its time to plan for stocking up your freezer with organic Grass-fed beef for
the winter. We would like to let you know that Howpark Farms is now taking BULK ORDERS for organic Grass-fed beef for late September – December delivery.
Bulk order options:
Whole
Half  (1/2)
Quarter (Shared half)
Our fall 2017 Bulk order price will remain the same at $ 4.85/lb based on the hot hanging carcass weight. This price includes the basic cut and packaging costs (special requests for specialized cuts and packaging may be extra).
Delivery to Brandon is included in the price. Delivery to most of Southern Manitoba outside Brandon, including into Winnipeg, is $200/animal; $100/half; $50/quarter (half of a half) plus GST. Please call to ensure we can deliver to your location or a location near you. Our supplies are always limited based on the number of finished animals we will have available for butchering this fall. Orders are taken on a first come, first served basis and we will butcher once we have a full beef spoken for.
Please place your order early and indicate your month of preference for delivery, so you are not disappointed. When placing your order please fill out the attached Order Form indicating the amount of beef you would like to order (1/4, 1/2 or whole) and your cut and packaging preferences.
We also now have smaller package options if that suites your needs (see attached order form for pricing & package details) Package orders are also taken on a first come, first serve basis.
Package Options:
~ 25lb Variety Pack
~ 20lb Grill Pack
~ 8lb Sample Pack
Bulk Ground beef packs (~ 10lbs or ~25lbs)
If you are a past customer, we thank you for your continued support and hope you are enjoying our organic Grass-fed  beef and look forward to providing you with our product once again. If you are a new customer, we look forward to providing you with healthy organic Grass-fed beef for the winter season.